Humanscale Freedom Chair with Headrest
Code: F21
Availability:
In Stock
Usually Ships in:
2-4 Weeks
---
---
Choose your options...
---
Product Description
•••••
The Humanscale Freedom Chair with Headrest is designed to give the maximum ergonomic benefit to the sitter with a minimum number of manually adjusted controls. Once the Humanscale Freedom Chair with Headrest is fitted no further adjustment is required. The idea is that movement which is essential for a healthy body should not be constricted by locking mechanisms and manual controls. In other words sitting comfortably is not something you should have to think about.
Features and Specifications
Options
Warranty Information
Winner of ten design awards to date-including the Design Distinction Award in the prestigious ID Design
Review 2000 competition-the Freedom chair by Niels Diffrient has revolutionized the task chair industry.
Its weight-sensitive recline, synchronously adjustable armrests, and dynamically positioned headrest set new
standards for task chair performance and functionality to keep the sitter exceptionally comfortable while also
lowering the risk of long-term injury.


Features:

1) Automatic Headrest

Freedom's dynamic, position sensitive headrest adjusts to cradle your head and neck as your recline, and
moves out of the way when you sit upright automatically.
2) Recline Action
As you recline, you'll maintain a near consistent eye level, while the angle between your torso and legs
opens up for better body function.
3) Contoured Cushions
The cushions are sculpted to closely follow body contours, which increase contact and decreases
concentrated loads. Our optional Technogel seat cushion maximizes weight distribution and comfort.
4) Responsive Backrest
The pivoting backrest automatically adapts to the changing needs of your spine during recline.
5) Synchronous Armrests
Freedom's body-friendly gel armrests move up and down together and stay with you during recline,
always keeping you in supported balance.
6) Body Fit
The seat, backrest and headrest may be independently positioned to fit your exact body size.
7) Intelligent Mechanism
With Freedom's revolutionary counter-balance mechanism, your weight automatically balances the
force required to recline the chair. So whether you're big or small, short or tall, the recline tension is
always perfectly adjusted to let you move while keeping you fully supported in all positions.
Standard Features:
Self-Adjusting Recline
-Intelligent counter-balance recline mechanism automatically provides the right amountof support through
the full range of recline motion, regardless of user size and weight
-No tension springs to adjust
-No recline locks to set/release
-During recline, the angle between torso and legs opens up for better body function
-User maintains near-constant eye level during recline
Pivoting Backrest
-Extra motion of the backrest during recline automatically adjusts to the changing needsof the spine
-Provides up to 1" additional lumbar support when needed
Synchronous Armrests
-Revolutionary armrests move in tandem to eliminate uneven arm positioning
-Natural lift and release action for immediate repositioning without buttons or locks
-6" range of vertical motion to accommodate all users and tasks
-Can be positioned below thigh level for close table or desk work
-Attached to backrest so arms stay in same relation to body during recline
-Duron arm pad for durability and comfort
Standard Cylinder
-Provides seat height range that accommodates 95% of the population
Contoured Cushions
-Carefully sculpted to match body contours
-Increased contact area reduces pressure points
-Modular for easy replacement
Body Fit
-Size adjustable to fit more than 95% of the population
Adjustments for fit-to-size:
-Headrest: 5" vertical adjustment range
-Seat Height: 5" adjustment range
-Seat Depth: 2.25" adjustment range
-Backrest/Lumbar Support Height: 3" adjustment range
Hard Casters
-2.5" double-wheel casters for carpeted floors
Optional FeaturesDynamic Headrest
-Position-sensitive headrest moves into place when you recline and out of the way when you sit upright
-5" vertical adjustment to fit all users
-Moves in the natural arc of head/neck for perfect support through range of recline
-Contoured to cradle the head and neck in comfort
Gel Seat Cushion
-Non-degradable, non-compressible Technogel layer on top of foam core
-Provides maximum pressure distribution
-Offers unmatched, long-term comfort
Arm Pad Option
-Flexible Duron
-Technogel for optimal comfort
Cylinder Options
-Low cylinder for small users
-Tall cylinder for very tall users
-High cylinder with foot ring
-Extra-high cylinder with foot ring (Saddle seat only)
Foot Ring
-Chrome finish
-Height-adjustable
Caster Options
-2.5" soft double-wheel casters for hard floors
-Non-rolling glides for fixed-location use
-2.5" locking casters
Fireproofing
-CAL 133-approved
-Fireproof barrier between textile and foam
-Fire-retardant plastics
Specifications: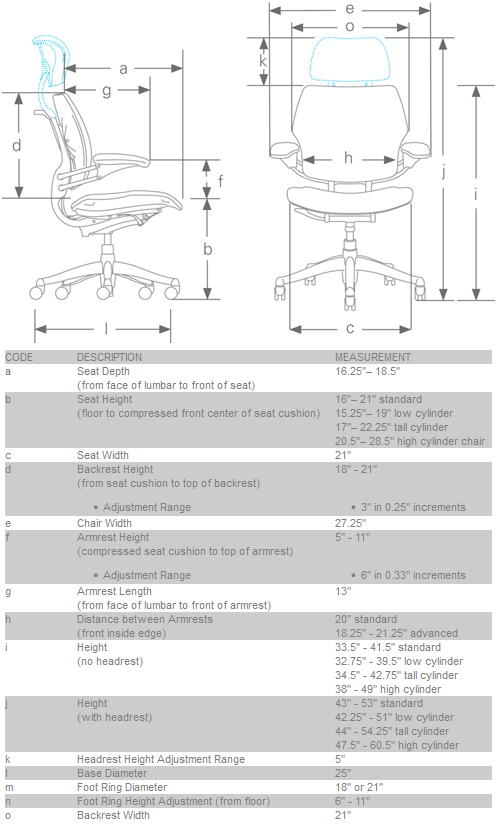 Scope of Users
Standard chair fits more than 95% of the office population
-5'0" Woman to 6'4' Man
-100 to 300 lbs.
Users outside the standard range can be accommodated by:
-Low or Tall Cylinder
-Advanced Armrests
Weight
35 lbs.
Backrest Recline
22° recline plus 7° backrest tilt
Reference Angle betwen Seat and Back
100° to 129°
Advanced Task Armrests
-Horizontal angle change from elbow pivot point
-35° each armrest
-Lockable in 5° increments
-New arm assembly features clean aesthetic and improves efficiency of use,allowing the
user to adjust the arms with just one hand
Headrest Radial Motion (automatic motion during recline)
30°
Lumbar Support Increase in Recline
1"
Warranty Information
15 Years, 24/7 Warranty
Fabric/Cushions/Arm Pads: 5 Years, Single-Shift Warranty