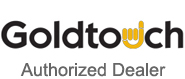 Goldtouch SlimLine Mouse Pad | Left-handed
Code: GT9-0017L
Availability:
In Stock
Usually Ships in:
2-3 Days
---

---
Choose your options...
---
Product Description
•••••
The unique design of the left-handed Goldtouch SlimLine Mouse Pad allows users to mouse in greater comfort combining a sleek look and unrivaled support for your wrists and joints. No longer will long hours at the office mean pain and a loss of productivity.
Features and Specifications
Warranty Information
Mouse more comfortably: Protects your hand and wrist from hard surfaces.

A great stress reducer: Gel disperses stress, relieving tension from your tendons.

Complementary style: The stylish black Lycra cover provides excellent trackability. The pad's low profile will measure no higher than your thin mini keyboards and other devices.

When you're looking for greater mousing comfort, look no further than the Goldtouch SlimLine Mouse Pad.

Dimensions:

Length: 10 Inches
Width: 8.5 Inches
Height: 0.375 of an inch (1cm)
Weight: 8 oz.